2022/7/5 City Water


brought to you in part by




Gwinnett County – The Best Tasting Water In Georgia

By Suzanne Forcese



City Water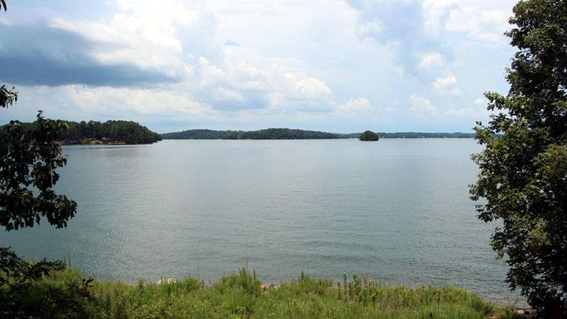 Lake Lanier is a reservoir in the northern portion of Georgia created by the Buford Dam on the Chattahoochee River in 1956. It is also fed by the waters of the Chestatee River. -- Wikipedia
Serving a population of approximately one million people, Gwinnett County's water sourced from Lake Lanier has been voted the best-tasting water in Georgia by the Georgia Association of Water Professionals.
WTGA learned more from Varessa Butts, Communications Manager in the Department of Water Resources in Gwinnett County.
WT: Tell us about the Best Tasting Water in Georgia. What does it mean to the team to have received this award?
Butts: This award is attributed to the water professionals that work 24/7 to ensure that all Gwinnett County Citizens and customers have safe, great tasting water delivered at the appropriate flow and pressure. The staff, including the operation and maintenance staff at our facilities and the field staff maintaining the pipes, truly care about our water and the award affirms that.
WT: Please elaborate on the Drinking Water Facilities and treatment process.
Butts: Gwinnett County operates and maintains two of the largest and most technologically advanced water treatment plants in the state of Georgia. The Lanier Filter Plant and the Shoal Creek Filter Plant combined can produce more than 200 million gallons of drinking water a day. Located near the shores of Lake Lanier, each plant has a 6-foot diameter intake pipe capable of withdrawing a maximum monthly average of 150 million gallons a day.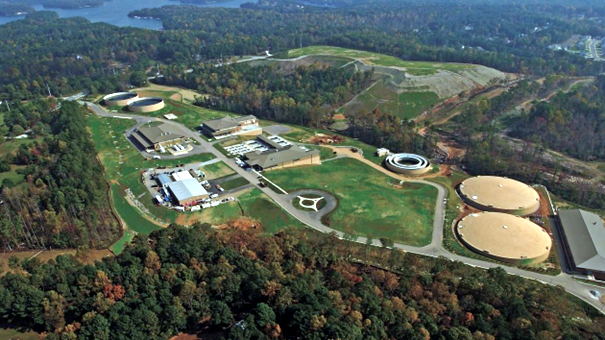 Both the Lanier Filter Plant and the Shoal Creek Filter Plant (pictured) utilize Ozone technology and multimedia filtration
Gwinnett County's filter plants are two of only four facilities in Georgia that use ozone in their drinking water treatment process. Ozone is a powerful oxidant with a much higher oxidation potential than chlorine. This oxidizing power is what gives its disinfecting power – the ability to kill viruses, microbials, and other pathogens.
Ozone improves water clarity and removes algal toxins, dissolved organics and odor compounds, residuals from pharmaceuticals, and more by breaking down these compounds into smaller pieces that can be used by the biomass on the filters during the direct filtration stage of the process.
The Treatment Process

Step 1: Intake and Equalization
Water is withdrawn from Lake Lanier through large intake pipes, then stored in equalization basins at each facility to provide flow rate stabilization.
Step 2: Ozonation
Ozone is created by combining pure gaseous oxygen and electricity through a series of complex operating systems
Step 3: Rapid Mix and Flocculation
Chemicals called coagulants are introduced and the water is rapidly mixed so as to form "sticky" receptors which cause small particles to clump together. "Rapid Mix" blends the chemicals together quickly. Flocculation involves successively slower mixing to further develop the suspended particles or "floc" that is captured in Step 4.
Step 4: Direct filtration
Filtration is the most important and regulated step in the treatment process. Our unconventional filter plants use direct filtration, which means we omit a sedimentation phase seen in most water treatment plants. We are able to do this because of the exceptionally clean and unchanging source of water from Lake Lanier.

Our filters are comprised of large rectangular vessels filled with a dual media of anthracite carbon and sand. The particles created in the previous treatment process are physically captured through adsorptive and absorptive forces within the filter media. There is also a biological component, where the "biomass" -- a group of tiny organisms—consumes organic and inorganic compounds broken down by the ozonation process.

Step 5: Final disinfection and Storage
After filtration, the water receives a final treatment of beneficial "finishing" chemicals including lime (pH control), fluoride (dental health), corrosion inhibitor (pipe protection) and chlorine (disinfection).

The last step in the process is finished water storage and pumping. Water is stored at each filter plant in large tanks called 'clearwells' before being pumped into our huge network of pipelines and supplemental storage tanks located throughout the county.
WT: You are involved in many research projects. Please tell us more.
Butts: Our applied research program focuses on optimizing treatment processes, increasing reliability, and improving design performance. We collaborate with various groups, ranging from universities, other utilities, vendors, consultants and research organizations.
Our team is an integral part of the research. The team identifies and defines the problem, develops pilot and full-scale trials, and ultimately implements the results.
WT: Any pilot projects currently happening?
Butts: We are currently completing the Water Research Foundation's (WRF) project, "Assessing the Backwash Practice on Biofiltration Operation and Performance" (WRF 5043), and performing full-scale trials for WRF's "Understanding and Improving Reuse Biofilter During Transition from GAC to BAC", (WRF 5092).
In April 2021, we incorporated the recommendations of WRF 5043 into our water treatment plant operations. Since implementation, we have reduced our backwash wastes by more than 100 million gallons and reduced our operating costs by more than $35,000.
WT: Any challenges with lead pipes?
Butts: Gwinnett County's water distribution system contains no known lead pipes. The distribution system contains trace amounts of lead in solder on some older pipes and brass fittings used at meters. Since 2014, we have only used lead-free brass fittings and continue to proactively replace older pipes in our system.
WT: How are you addressing PFAS and emerging contaminants of concern?
Butts: We have completed a preliminary review of potential sources of PFAS in our service area and initiated collaborative discussions to reduce their discharge at source. In addition, we have developed a detailed test plan, scheduled to commence 2022Q4/2023Q1, to evaluate the effectiveness of our water and wastewater treatment process in removing these contaminants.
We have collaborated with universities and the Water Research Foundation to determine the removal effectiveness of our current treatment process on other emerging contaminants. We are also collaborating with other utilities that rely on Lake Lanier for their source water to improve the protection of lake water quality.
WT: Tell us about your outreach/education programs.
Butts: Gwinnett County Department of Water Resources (DWR) has a robust outreach and education program on a range of water-related topics. These include water conservation, protecting our lakes and streams, keeping harmful materials out of our sewer system, being better stewards of the environment, and taking care of home plumbing and septic systems.
We host an annual festival at the water production filter plants where we offer tours of the filter plant to show attendees the advanced water treatment process and explain all the safeguards in place to ensure the drinking water is of the highest quality.
We have hosted taste tests that demonstrate that Gwinnett Water tastes better than bottled water brands.
For conservation, we have numerous programs in place. We utilize literature to help spread the word, including indoor and outdoor conservation brochures and flyers to promote conservation programs.
We also run multiple workshops covering topics such as waterwise landscaping and fix-a-leak.
We host a virtual workshop called Homeowner H2O. The workshop covers saving water and money, fixing leaks and toilet technology.
At the in-person workshops, we offer indoor or outdoor conservation kits, as well as water-saving promotional items such as soil moisture meters and water conservation post-it notes.
The water production filter plants also host tour groups with schools, community organizations, and County programs such as Leadership Gwinnett and Gwinnett 101.
Finally, we attend various events hosted by other organizations where we offer free water with branded, reusable drinking cups and provide literature and promotional items on water quality and conservation.
WT: And for the last drop, what can you tell our viewers about a career in the water industry?
Butts: Like many industries, it has been a challenge to recruit and retain employees in the water industry. While this has been an issue for a few years now, the current competitive job market, along with many jobs offering a teleworking option has brought additional challenges in retaining staff. In addition, many dedicated, long-term employees are eligible for retirement. Thus, the industry has the added risk of losing institutional knowledge.
Gwinnett DWR offers a rewarding career for those who want to impact their community. Knowing that one is directly involved in providing clean, safe drinking water to the homes and businesses of Gwinnett County is gratifying. We value innovation and there are many opportunities for learning.
DWR is recognized nationwide as an award-winning facility. Our teams work together in an inclusive culture and do a fantastic job. The water operators have a first–hand seat to SCADA software and all the technology in place and being developed to protect our water.
We hire Operators at various levels, provide on-the-job training, and pay for additional training and licensure. We have several managers who started at level 1 and progressed.
DWR provides a sustainable career for employees to gain professional growth.
We're always hiring! Go to www.gwinnettwaterjobs to apply.